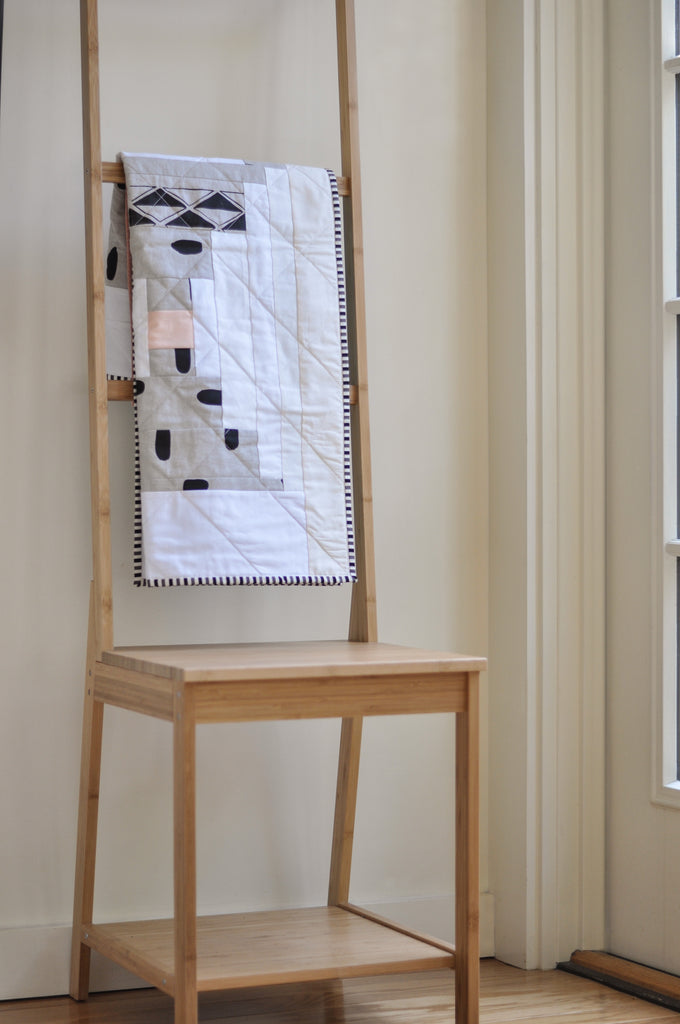 Sometime last year, I connected with Erin Dollar, the designer behind Cotton & Flax, an LA-based home goods company. Erin creates awesome surface patterns from simple repeating shapes, which she silk-screens onto linen-cotton fabrics.  
In addition to creating the free Double Dash quilt pattern for her first fabric collection for Robert Kaufman Fabrics, I've also been working with her leftover screen-printed scraps to create new quilts (like this flying geese wall quilt). The two log cabin baby quilts pictured here are my latest work made from Erin's scraps; in this case, I worked solely with her designs printed on a flax-colored/natural linen-cotton blend.
This first quilt features her designs printed in black, paired with strips of cream and white, and squares of solid peach, to form four Courthouse Step blocks. Each block was pieced improvisationally using strips of various widths, so each block is unique and varies in size and shape.
This second quilt features Erin's patterns printed in white, and the fabric strips are arranged in a much more orderly and uniform fashion to form four log cabin blocks. The layout is the same as the one I used to create this neutral log cabin baby quilt earlier this year. Each of the blocks' centers feature a unique, warm-colored solid. 
I really enjoy the act of working from scraps---making design decisions on the fly since I'm limited to the fabric that's in front of me---so I really loved the process of making both of these quilts and am so happy with how they turned out. 
Both of these quilts are now available in the shop, if you'd like to take a look. And you can read more about this collaboration in Erin's write-up from last spring.
All photos by Jane Cuthbertson of Gray Green Goods. 
Read more →
---
---
---
---
---
---
---