Blog / quilt label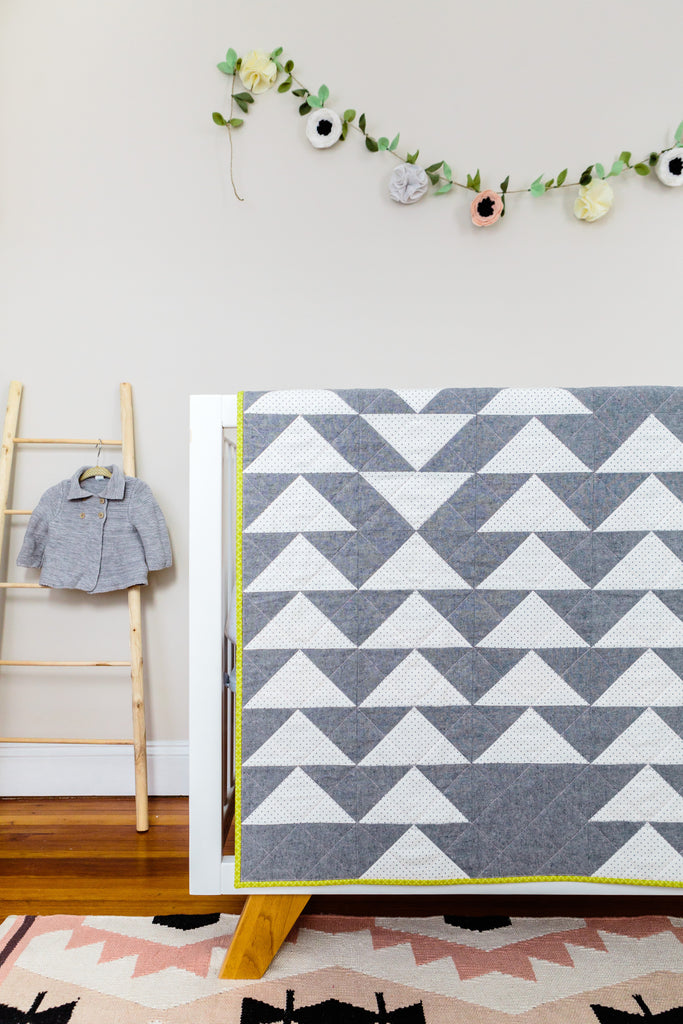 Ask any of my quilty friends, and they'll most likely tell you that flying geese are my go-to quilt block---and they would be right. In fact, I created a whole block-of-the-month pattern exclusively for Pintuck & Purl based on the block. 
Today, I thought it would be fun to show you two of the baby quilts I made last year which feature flying geese in an almost identical layout---geese pointing both north and south with areas of negative space around them---but have a completely different look and feel to them thanks to my fabric choices. 
For this first one, I used only two fabrics for the top: a pretty, textured blue Essex linen for the background and an off-white mini plus-sign print for the geese. Since the top was minimal and restrained in its color palette, I opted to add a vibrant and patterned back to the quilt, for a fun surprise. 
For this second flying geese quilt, I reversed the color placement (opting for a light background with darker geese) and added a third color (an assortment of acid yellow prints paired perfectly with solid coral pink and white). 
The back remained minimal with a gray windowpane print, and I couldn't resist adding in a bit of texture in the form of a recycled hemp and cotton binding. Though these quilts are similar in design, I'm curious to know, do you prefer one over the other?
You can find all of my flying geese quilts from throughout the years here, and you'll find both of the quilts featured here now for sale in my online shop. 
First three photos by Joyelle West. Last three photos by Lindsay Hite. 
Read more →
---
---
---
---
---
---
---