Blog / table runner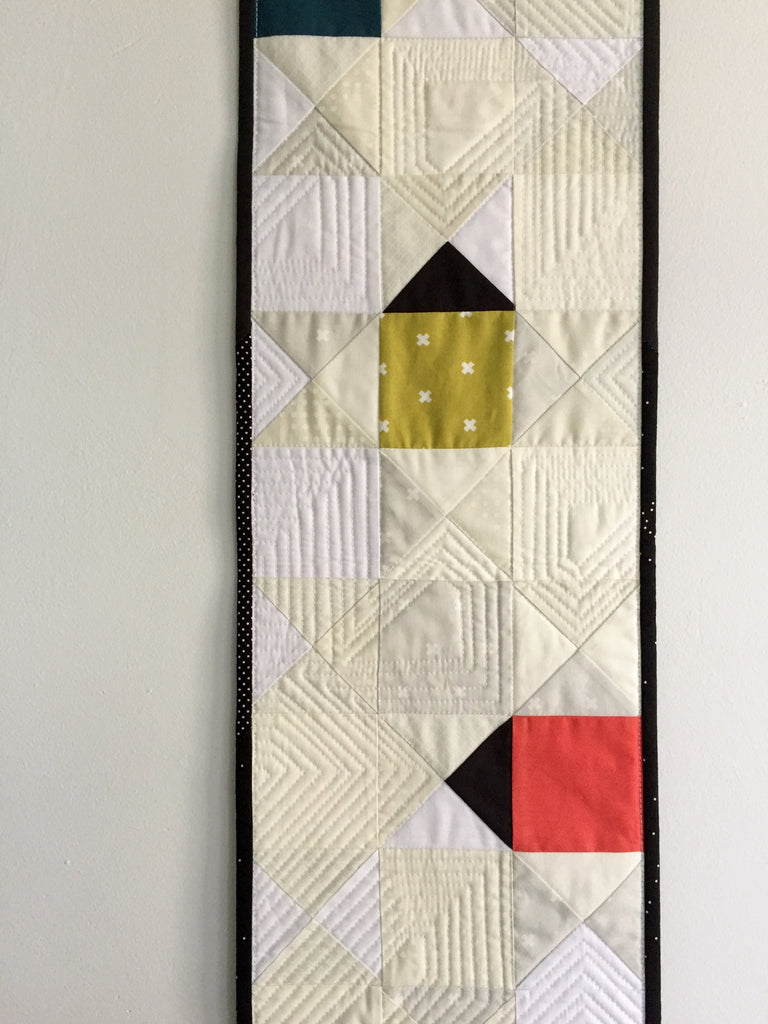 For this year's Row by Row Experience (an annual quilt shop hop where store visitors can pick up a free pattern to create a quilt row based on that summer's theme), I was tasked with creating the row for Pintuck & Purl, the fabric and yarn shop based in Exeter, NH, where I occasionally teach. 
This year's theme is "Home Sweet Home." I spent quite a bit of time with my sketchbook while designing this row, trying out different ideas which involved flying geese, front doors, and inspiration from local architecture. I eventually began playing around with the basic shapes that form a house---triangle roof and square body---sketching out ways to nest the shapes together in a simple, repeating pattern. The idea I eventually settled on was to alternate hourglass blocks with squares, and use mostly low-volume fabrics for the pieces. The houses would emerge by switching to bold colors in only a few select places. 
The final pattern is minimal, yet striking, and was a very fun experiment for me. I love that the resulting row is reminiscent of an aerial view of a neighborhood, with the dense straight-line quilting referencing roads or even plowed fields.
The free, printed pattern for this row will be available only at Pintuck & Purl, today through September 6, 2016, so be sure to stop in and grab one when you're in the area this summer!
Read more →
---
For her birthday in January, my mother requested a new table runner for her recently rearranged dining room. Using jewel-toned ribbon and strips of thrifted fabric and fabric store remnants, I set to work making the runner using the measurements she sent.
I did very simple machine quilting and finished the entire piece with black binding. I'm pretty happy overall with how the project turned out, and I especially like the color palette.
Read more →
---
All of the fabrics I used were ones I already had on my studio's shelves, and, thankfully, fit the color scheme of my relatives' home.
For the binding, I used the green ribbon left over from all of our Pottery Barn wedding gifts.
On the back, I included a strip of ribbon, which I embroidered with the recipients' names and a greeting.
Read more →
---
---
---